East Quance Chiropractic Clinic
East Quance Chiropractic Clinic
is a chiropractic clinic located in the east end of Regina, Saskatchewan, Canada. The clinic provides rehabilitation treatments for work related injuries, sports injuries, motor vehicle accident injuries, and injuries related to day-to-day living. We cater to clients of all ages including children, adults and seniors. Treatment is provided in a safe, non invasive, and relaxing environment. We offer chiropractic, massage therapy, reflexology, and acupuncture services at our clinic.
We are excited to announce that a new registered massage therapist is joining our team at East Quance Chiropractic.
Isabel Calaus is currently accepting new patients. She will be working 8:45am-4:30pm, Monday to Thursday. She will also be working alternating Saturdays from 9:00am-12:00pm starting Saturday, October 26th. Isabel does reflexology as well as massage therapy.
East Quance Chiropractic is once again participating in the Toasty Toes Sock Drive. We are working with the Salvation Army to collect socks for those who are in need during the cold winter months, so please feel free to bring new, packaged socks to the office. Sock collection will be taking place until Friday, November 22nd. We appreciate any help.
- Dr. Jennifer Beggs will be away from the office on Friday, November 15th.
She will be back in the office on Monday, November 18th.
- Dr. Jeff Zimmer will be away from the office on Saturday, November 16th.
He will be back in the office on Monday, November 18th.
- Jessica Fisher will be away from the office on Saturday, November 30th.
She will be back in the office on Monday, December 2nd.
- Jessica Fisher's last day at our office is Wednesday, December 18th.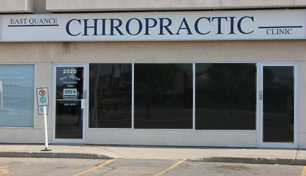 .
We are located just south of the old Costco and we are in the same strip mall at CAA and M&M Meats.
Chiropractic is a healing discipline firmly grounded in science that is concerned with the care of the entire body. It can provide care to patients of all ages with a range of acute and chronic health conditions.
About Us
We strive to offer the highest quality of chiropractic care to all our clients. We are friendly, knowledgeable and care about all aspects of your treatment. Each treatment is customized to meet your specific needs by incorporating a variety of assessment and treatments techniques that are best suited to you as an individual. As part of our service, we will provide you with knowledge of self-administered pain management techniques such as stretching and strengthening exercises.
Scent Free Location
We are a scent free office so we ask that you please refrain from wearing perfume, cologne, aftershave, scented lotions, and other fragrances on days that you are coming in for an appointment. The chemicals used in scented products can make some people sick, especially those with fragrance sensitivities, asthma, allergies and other medical conditions. Help us keep the air we share healthy and fragrance-free. Thank you.