East Quance Chiropractic Clinic
East Quance Chiropractic Clinic
is a chiropractic clinic located in the east end of Regina, Saskatchewan, Canada. The clinic provides rehabilitation treatments for work related injuries, sports injuries, motor vehicle accident injuries, and injuries related to day-to-day living. We cater to clients of all ages including children, adults and seniors. Treatment is provided in a safe, non invasive, and relaxing environment. We offer chiropractic, massage therapy, and reflexology services at our clinic.
What's New
- New patients for both chiropractic and massage therapy are now able to print out their new patient forms prior to coming for their appointments. This means you can have the forms filled out ahead of time to avoid needing to come 15 minutes before your scheduled appointment to fill them out in the clinic. This will also help reduce some traffic in our waiting room. You can find the link to the "New Patient Forms" at the top of the web page or you can click
here
.
- Please note that while our clinic is open on Saturdays, it is open for massage therapy appointments. We have no chiropractic appointments available on Saturdays.
- Taurelle Berger will be adjusting her hours for January as follows:
Mondays & Tuesdays 12:00pm - 7:00pm, Wednesday - Friday 10:00am - 4:00pm
- Shae Boyce will be adjusted her hours for January as follows:
Mondays & Wednesdays 1:00pm - 8:00pm, Tuesday, Thursday & Friday 10:00am - 4:00pm
COVID-19 Update
Effective September 17, 2021, the Government of Saskatchewan announced new public health measures. An interim province-wide mandatory masking order will be implemented for all indoor public spaces. This means that face masks will be mandatory in our clinic. Medical masks are the best option, but disposable and cloth masks are acceptable as well. Bandanas, gaiter masks, and face shield ARE NOT acceptable substitutes for masks. We will ask you to wear an acceptable mask in order to be seen at our clinic.
Mask criteria is based on the suggestions of Government of Saskatchewan website.
We want to ensure the health of our staff and patients during the COVID-19 pandemic.
We ask that you do not attend our clinic if any of the following criteria are met:
You are feeling ill or exhibiting any symptoms of COVID-19.

If you have travelled internationally within 14 days of your appointment.

If you have been diagnosed or if you have come into contact with someone who has diagnosed with COVID-19 within 14 days of your appointment.

If you have had a COVID-19 test taken and have not received the results yet.
Thank you for considering our health of our staff, our patients, and the health of the community.
Absence Alerts
.
-
Dr. Jen Beggs will be away from the office Friday February 18 to Friday February 25, 2022.
- Dr. Darryl Kashton will be away from the office Friday February 18 to Friday February 25, 2022.
- Dr. Jeff Zimmer will be away from the office Monday January 24, and Tuesday February 18 to Monday February 28.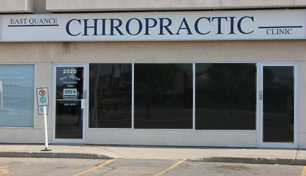 .
We are located south of the old Costco and we are in the same strip mall as CAA and M&M Meats.
Chiropractic is a healing discipline firmly grounded in science that is concerned with the care of the entire body. It can provide care to patients of all ages with a range of acute and chronic health conditions.
About Us
We strive to offer the highest quality of chiropractic care to all our clients. We are friendly, knowledgeable and care about all aspects of your treatment. Each treatment is customized to meet your specific needs by incorporating a variety of assessment and treatments techniques that are best suited to you as an individual. As part of our service, we will provide you with knowledge of self-administered pain management techniques such as stretching and strengthening exercises.
Scent Free Location
We are a scent free office so we ask that you please refrain from wearing perfume, cologne, aftershave, scented lotions, and other fragrances on days that you are coming in for an appointment. The chemicals used in scented products can make some people sick, especially those with fragrance sensitivities, asthma, allergies and other medical conditions. Help us keep the air we share healthy and fragrance-free. Thank you.